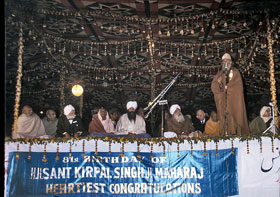 You say, "Happy birthday to you". I say to you, "Happy birthday to you". You are getting the thing (first-hand experience) by the grace of Hazur Maharaji. It is His words that are bearing fruit. Pray from the depth of heart. A prayer that comes from the heart is accepted and answered.
Let man's physical body be in full blossom and his soul be full of glory, intoxicated with the ringing radiance of God, radiating love all around to the whole creation and wish, 'Peace be unto all the world over under Thy will, O Lord.'
Kumari Saroj Kumari, third-prize winner in the Essay Contest, receives her prize from Sant Kirpal Singh.
The Conference is over, and the loving efforts of all of you, of one label or another, are appreciated; God takes work from everybody. I think this Conference was the first of its kind held since the time of Ashoka. Other conferences have been held at the level of reli­gions; this was at the level of man.


Sant Kirpal Singh